Project News
KoolGlide System Components: Better way to install carper and other flooring material!
With KOOLGLIDE you remotely activate a hot-melt adhesive tape.  Through the remote activation  many of the problems of the 30-year-old hot iron method are eliminated.  The KOOLGLIDE System works on carpet, wood and tile, giving you better quality and lower cost installation. The KOOLGLIDE system is safe, green and easy to use.  That's why major carpet mills, trainers, retailers and top installers endorse KOOLGLIDE installation.
Visit kool-Glide.com to learn more.
---
 Lisle Corporation Set of Four Relay Test Jumpers Make Testing Relays or Live Circuits Quick and Easy!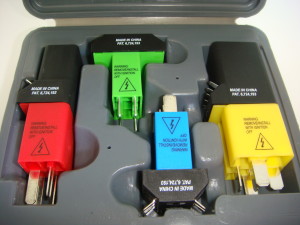 Set includes four jumpers to fit the most popular size relays on domestic and import vehicles. Simply remove relay to be tested, insert correct jumper and insert relay into jumper. When using green four pin jumper be careful to align pins on jumper and relay correctly. No need to pierce wires or connect multiple jumper wires. Jumpers have tabs for clamping and flat pads to place test leads on. Set comes in blow-molded case for storage.
Contact Lisle Corporation Directly for more information:
---
HD Cable Stick
Why pay for things that you don't need, or even use? Get the HD Cable Stick and get rid of cable!
Use it anywhere you would like to view HDQuality TV. No need to pay for additional cable boxes, no need for purchasing those unattractive rabbit ears or intrusive large antenna's, all you need is the HD Cable Stick. You can use the HD Cable Stick to replace your cable or just use it on "secondary" TV's in your extra bedrooms, office, garage, boats, RV's, dorm rooms and even on your outside patio! Get your HD Cable Stick today and start enjoying Free HD quality network programming.